Course details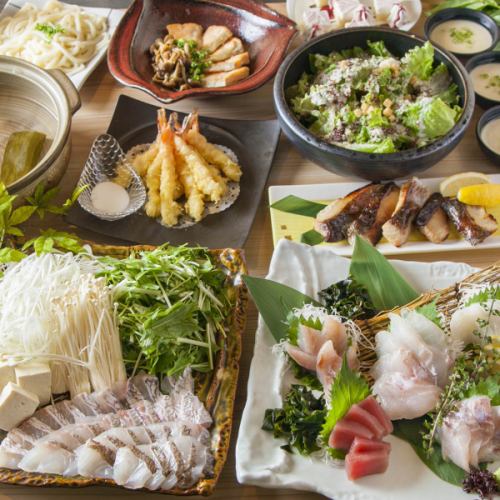 【Luxury river】 Seafood ___ MAIL luxury seafood party ___ ___ ___ 0 ___ ___ 0 ___ ___ 0 ___ ___ 0
By using a coupon5000 Yen
«Regular price 6000 yen ⇒ special price 5000 yen (tax excluded)»
10items

3persons

-

All-you-can-drink available

All you can drink A plan
It is a luxurious banquet course where you can enjoy seasonal and luxurious cuisine including chef's favorite fresh fish making platter and fresh snapper shabu! Recommended for various banquets and entertainment in Yokohama!
Course menu
【All you can drink】 with A plan!
---------------------------------------------
【1 item】 Today's appetizer
【2 items】 Mineral-rich seafood salad
【3 items】 Assorted 5 varieties made directly to the Haneda market
【4 items】 Morning cake and fresh fish sauce
【5 items】 鮪 Steak
【6 items】 Fried prawn shrimp and tempura of the sea bream
【7 items】 Soup curled rolled ome sauce
【8 items】 Main main menu
■ Golden soup of sea bream Shabushabu
■ Chef's special made seafood pan
【9 items】 Dinner cooker / udon
【10 items】 Seasonal dessert
---------------------------------------------
* The contents may change depending on the purchase situation.
* Please choose the main you can choose at the time of reservation.We will offer 【Sna Shabu / Udon】, especially when not specified.
※ Friday and Sunday Holiday Day + 500 yen
★ From 12/1 to 12/11 From the displayed price 【500 yen discount】 !!
---------------------------------------------
All-you-can-drink menu
· 【B Plan】
· [Sour] Lemon Sour, Lime Sour, Grapefruit Sour, Orange Sour, Acerola Sour, Oolong High, Green Tea High, Jasmine Tea
· 【B Plan】
· 【Wine】 Almaden (red, white)
· 【B Plan】
· [Soft drinks] Pepsi Cola, Ginger Ale, Tonic Water, Orange Juice, Lemon Squash, Grapefruit Juice, Acerola Juice, Acerola Soda, Calpis, Calpis Soda, Oolong Tea, Green Tea, Jasmine Tea
· 【A Plan】
· 【Beer】 Asahi barrel raw
· 【A Plan】
· 【Via Cocktail】 Shandigafu, Blueberry Beer, Cassisvia, La France Beer, Muscat Beer
· 【A Plan】
· 【High Ball】 Black Nikka High Bowl, Ginger High Ball, Coke High Bowl, Lemon Squash High Ball
· 【A Plan】
· 【Cocktail】 Cassis soda, cassis orange, cassis grape, cassis oolong, cassis tonic, peach soda, fuzzy navel, peach grape, regga punch, peach tonic
· 【A Plan】
· 【Cocktail】 Lychet Soda, Litchi Orange, Litchi Grape, Lychee Oolong, Lychee Tonic, Gin Tonic, Jim Buck, Jin Ricky, Vodka Tonic, Moscommeureur, Screwdriver
· 【A Plan】
· [Shochu] Toru and (potato) and (wheat)
· 【A Plan】
· 【Flavor Shochu】 Seasonal fragrant cassis / Seasonal fragrant citrus fruit Yuzu / Seasonal fragrant lychee
· 【A Plan】
· 【Japanese sake】 fantastic
· 【With + 500 yen ...】
· All-you-can-drink plan
· 【S plan】
· 【Beer】 Asahi Super Dry
· 【S plan】
· 【Non alcohol】 Dry zero bottle
· 【S plan】
· [High Bowl, Whiskey] Apple Wine High Bowl, Jack Daniel
· 【S plan】
· [Rich High Ball] Black Nikka Rich High Bowl, Ginger High Ball, Coke High Bowl, Lemon Squash High Ball
· 【S plan】
· 【Plum wine】 Tenderness plum wine / rich plum wine
· 【S plan】
· [Sangria] Vinha Albali (red / white)
· 【S plan】
· Satsuma Shiji (potato), the first bow (wheat), silver wind (rice)
Reservation deadline

Until 16 o'clock on the day of visit to the store
Available days for reservation

Monday - Sunday - Public holidays - Holidays
Coupons that can be used with this course
2018/11/30 update